Preserving the Diamond Dream
The engagement ring epitomizes the "Diamond Dream." Some clever marketing went into creating that dream, serious energy is spent preserving it, a lot of jobs and some big chunks of the world's economy depend upon it.
What's so special about diamond? It's the hardest natural substance on earth. A well-cut diamond scintillates, breaking light into a rainbow of colors. It is expensive, beautiful, and regarded as inherently valuable. But none of those attributes accounts for diamond's privileged position in the jewelry marketplace. The main reason people buy diamond is for its emotional symbolism.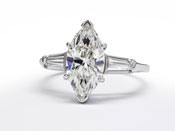 Diamond is associated with status and wealth. In engagement and wedding rings it represents the couple's aspirations and dreams. Their love, like the diamond, is strong and enduring. After all, a diamond is forever.
But wait: a diamond has been forever only since 1948, when a copywriter came up with the line. In a triumph of marketing, De Beers turned this advertising slogan into a cultural truism, to the great benefit of the diamond industry as a whole.
Diamonds were quite rare until the late 19th century, when large quantities of diamond were discovered in South Africa. Suddenly the market was flooded with diamonds. In an effort to prevent the devaluation of diamond likely to result from this excess, investors in the diamond mines merged their interests by forming De Beers Consolidated Mines, Ltd.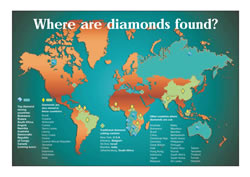 Click to enlarge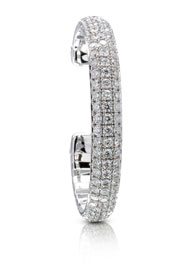 Over the next century De Beers pretty much cornered the market on diamonds, owning the major diamond mines and strictly controlling the amount of diamond available for sale, the buyers who could obtain it, and the wholesale prices they would pay. Controlling the rarity of diamond worked to keep retail prices high.
The De Beers cartel controlled not only the supply of diamonds, but also the demand. Its slogan "A diamond is forever" made diamonds an inseparable part of courtship and marriage. Diamonds were marketed as expressions of love. Advertising aimed to make the diamond engagement ring "a psychological necessity." The strategy involved newspaper pictures of celebrities wearing diamonds, fashion designers on radio programs talking about "the trend toward diamonds," and even lectures to high school students around the country on the subject of diamond engagement rings.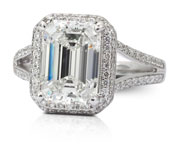 In 1938, some three quarters of De Beer's worldwide diamond supply were sold for engagement rings in the United States. The success of the advertising campaign was remarkable, especially since it did not involve a brand name. The focus was just diamond.
In the late1960s, De Beers turned its advertising efforts international and they were wildly successful in Japan. Until then, Japanese parents arranged their children's marriages; there was no tradition of romance, courtship, or prenuptial love, and certainly no requirement of an engagement ring. De Beers diamond ads featured Western-looking people in European clothes, driving imported cars, engaging in sports. Diamonds represented status and a step into the modern world.
In 1967 fewer than 5 percent of engaged Japanese women received a diamond ring. By 1978, half of all Japanese brides wore a diamond. Japan became the second largest market, after the U. S., for the sale of diamond engagement rings.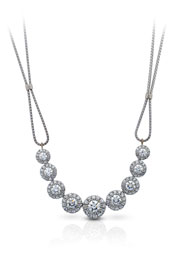 Today, the fastest-growing markets for diamond jewelry—and the diamond dream—are India and China. Chinese are coming to associate diamonds with marriage and romance, and are buying the equivalent of engagement rings. As in the U.S., large chain stores in China offer diamond jewelry at a wide range of prices.
In India, the diamond-buying motivation is less romantic and more from a sense of modernity and elegance. In a culture with a long tradition of decorative jewelry, that jewelry now includes small diamonds. The trend is aided by the fact that India is a major center for diamond cutting. China and Japan now account for about 20% of the world diamond market.
Uniqueness & Value /
The question of commodity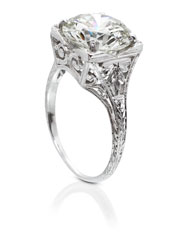 An important ingredient in the diamond dream is the sense that each diamond is unique. Manufacturers and retailers foster this belief because it has a strong emotional pull. This is especially so for bridal jewelry. Each consumer can find the diamond uniquely for her. Brand name sellers have a part in this, as well. De Beers now has its own brand, Forevermark diamonds, playing on its popular slogan.
Gemologists know that diamonds are described by their 4 Cs (cut, color, clarity and carat weight). Insurers are—or should be—aware that, with a detailed appraisal and diamond report, any damaged or lost diamond can be replaced. (Extremely rare diamonds are the exception, but the Hope Diamond will not be crossing most agents' desks.)
Marketing has also fostered a sense that diamonds hold their value. This is part of what forever means—the stone itself will not deteriorate and its value will not diminish. (Both senses of forever make the gem work well as a symbol for love.) Yet, though the price of diamond tends to rise over time, diamonds do not work well as an investment. Unlike gold, they can't easily be turned back into cash.
A consumer who buys a diamond at retail prices will not necessarily be able to turn around and sell it for as much or more than he paid. A high-quality, well-cut diamond may hold its price in a stable economy, but in today's economy purchasers tend to buy less expensive jewelry with smaller stones. Most engagement rings are in the $5,000-$10,000 range, rather than the $20,000-$30,000 range of several years ago.
People in the gem industry don't like to think of diamonds as a commodity, but diamond jewelry is in competition with other big-money items. Anyone who can afford jewelry can afford other things. Stephen Lussier, executive director of De Beers, notes that travel "competes in the same emotive space as diamonds." Brand-name luxury goods and clothing compete on the level of personal adornment.
Among Generation Y folks, the main draw from their wallets is the latest technology. Young people live in a fast-paced digital world. Competing with an iPad for attention and purchase is a major challenge for the gem and jewelry industry. One step is a new iPad ap that allows you to see yourself wearing a piece of jewelry without having to enter a brick-and-mortal store. Whatever it takes. As Lussier put it, "We must make sure that each generation comes on board and buys into the diamond dream."
FOR AGENTS & UNDERWRITERS
As diamonds become increasingly popular, insurers must be extremely careful. A reliable appraisal is vital, as the valuation for natural diamonds is far higher than for enhanced diamonds or synthesized stones.
It is best to have a detailed JISO 78/79 (formerly ACORD 78/79) appraisal from a competent and experienced jeweler/appraiser who is a Graduate Gemologist (GG) and preferably a Certified Insurance Appraiser™ (CIA).
A diamond certificate from a reliable laboratory serves as authoritative verification of the qualities of the gem, and it is a highly recommended document for insuring high-value jewelry.
The most reliable labs for diamond certificates are GIA, AGS and GCAL.
FOR ADJUSTERS
If the appraisal does not explicitly state the diamond is natural, use every means possible to determine whether it is natural or synthetic.
On a damage claim for a high-priced diamond, always have the piece examined by a qualified gemologist, such as a Certified Insurance Appraiser™, to determine whether the diamond is natural or synthetic and to be sure its qualities are as stated in the appraisal.
Brand names for diamonds can tell much about the quality of a stone, such as whether it is color-enhanced, synthetic, etc. If the appraisal or other documents mention a brand name you don't understand, it might be worthwhile to consult a jewelry insurance expert before settling the claim.
Any inscription on the diamond's girdle, such as i.d. number, GIA certificate number, or brand name, is important information and should be taken into account when pricing a replacement.
GIA, AGS and GCAL are the most reliable labs for diamond reports. To verify authenticity of a certificate, follow the appropriate link. You will need the report number and the carat weight of the stone.
GIA Report Check
AGS Report Verification
GCAL Certificate Search
Remember that even a reputable diamond report is not a substitute for an appraisal. A diamond report describes only the stone; you need an appraisal for a description of the jewelry as a whole, including metal, setting, etc.
Especially for high-value jewelry, always compare all documents on file to be sure their descriptions agree. Check that the diamond report and the appraisal are describing the same stone. Uncovering discrepancies can help avoid overpayment of settlements.
©2000-2018, JCRS Inland Marine Solutions, Inc. All Rights Reserved. www.jcrs.com
Subscribe to Jewelry Insurance Issues