Pricey when it's hot: What happens when it's not?
What's in a name? A famous name can wield a great deal of power, and in jewelry that name can increase, or even create, value.
Angelina Jolie, in collaboration with jewelry designer Robert Procop, recently launched a line of jewelry called Style of Jolie. The pieces have sumptuous colored gems set in 18k gold. Proceeds from the sales go to Education Partnership for Children of Conflict, a nonprofit that helps educate children in conflict-stricken areas. The "good cause" will surely play a part in motivating purchases, and the emphasis on colored gems appeals to current taste, while the Jolie name gives it all that extra lift.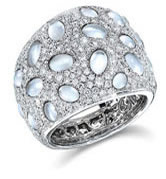 Ring from Ivanka Trump Collection
Donald Trump says his name alone is worth about $3 billion. Many developers pay just to use the Trump name in marketing their properties. His daughter Ivanka Trump has a line of jewelry that certainly benefits from the famous name associated with wealth. Her brand covers not only jewelry, but also clothing, shoes, handbags and other accessories. Common motifs are her "signature oval" and the color pink. Sales benefit not only from her famous name but from a concerted marketing strategy.
Famous people can lend value even to objects they own. Elizabeth Taylor had an extensive collection of unique, world class jewelry, but her possession of them amplified their value. Auction of her jewelry after her death set world records, with some pieces going for 50 times their estimated value.
It's an open question whether such jewelry's value will hold over time or whether it will fall with the popularity of the name associated with it, either as owner or brand. Is such jewelry just a fad that will pass?

Pandora bracelet
There are other jewelry fads.The Pandora phenomenon is one to keep an eye on. These do-it-yourself charm bracelets are hugely popular right now, with big ads and an extensive website. Pandora offers "beads to commemorate a friendship, a love, weddings, babies, holidays, milestones, hobbies and so much more."
The charms have a wide price range, depending on what they're made of; some cost more than $800. Then there are the spacers and stoppers and the gold necklace or bracelet strand itself. The heart bead shown here is $360 in 14k gold or $25 in some unidentified material. The "car with CZ bead" is $55.
Then there are the websites advertising "Pandora beads at 80% off, no sales tax, free shipping." On one such site the prices on some beads barely made the double digits.
So the name Pandora carries no presumption of quality or value. Also, the composition of any bracelet is highly idiosyncratic: some beads may be made of quality materials and others not. A valuation of the whole piece is not possible without examining each bead.
Styles and materials can also come into fashion and then drop away. Black diamonds, bling, and rose gold, for examples, are popular now but may not remain so.
Looking into the future
Today, at the peak of the Pandora fad, the beads could be appraised and insured at their retail price. But what happens in 10 or 20 years? Will the fad have passed? Will interest in Jolie or Trump or any other designer name fade? Will black diamonds or rose gold just look old fashioned?
Once a brand or style is no longer the current thing, it may become sought-after "period jewelry," like Art Deco. Or a piece may retain a modest market value as retro or kitch. Or its worth may be reduced to the scrap value of the gems and metals.
How to value "fad" jewelry – in fact, even determining whether something is a fad – is an issue for both appraisers and insurers. An appraiser must be continually aware of the market in order to accurately state value. And he may have to face the ethical dilemma of telling a client that a piece of jewelry has declined in valuesince it was last appraised.
Most insurers don't review their jewelry policies from year to year. Once something is on the books, it stays there. Some insurers have a formula for automatic inflation, so that even fad jewelry has the appearance (on paper) of getting more valuable year by year. In the event of a loss, this practice could lead to settlement problems.
FOR AGENTS & UNDERWRITERS
Jewelry fads emphasize the importance of having a new valuation for jewelry every couple of years. Jewelry, like other material objects, takes its value from the marketplace. When people no longer want it, its value falls like a rock.
It is important to have an appraisal from an appraiser who is aware of the current market.
Make no assumptions about the value of brand names. Be sure to get a detailed, descriptive appraisal on all scheduled jewelry. For high-value pieces, get two appraisals; at least one of them should be from an appraiser who has a GG or equivalent degree, and preferably who is also a Certified Insurance Appraiser™.
FOR ADJUSTERS
A settlement is based on value at time of loss. This is especially relevant in regard to trendy jewelry. Yesterday's fad jewelry may be worth only the value of its metal and gem material. On the other hand, a relatively unknown designer may become famous and his works may appreciate in value.
Be sure the appraisal valuation is recent and reliable.
©2000-2018, JCRS Inland Marine Solutions, Inc. All Rights Reserved. www.jcrs.com
Subscribe to Jewelry Insurance Issues