Best Appraiser Credentials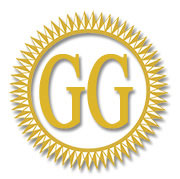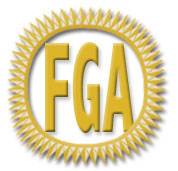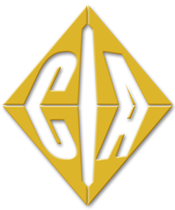 We've frequently recommended jewelry appraisals from an appraiser who is a GG, FGA+, or CIA. Just what do those letters mean? And what's with that plus sign?
GG stands for Graduate Gemologist of the Gemological Institute of America (GIA).
GIA developed the color-grading and clarity-grading systems widely used around the world. GIA's grading lab is so highly regarded that it is considered the final authority in diamond grading. When grading by different appraisers is in dispute, GIA's opinion is decisive. The Graduate Gemologist program is considered the best gemological training available in this country.
FGA stands for Fellow of the Gemmological Association of Great Britain, also known as Gem-A.
Gem-A is the world's longest established provider of gem and jewelry education, beginning with its first gem course in 1908. Today it teaches classes in 26 countries, and its prestigious gemology and diamond diplomas are recognized throughout the world.
The gemology program covers gemological principles, how to identify gems, and how to use gem-testing equipment. It covers all gemstones, diamond among them. An appraiser who has successfully completed and passed exams for the gemology program can become a Fellow of Gem-A, and use FGA with his name.
FGA+ signifies that the appraiser has completed Gem-A's gemology program plus Gem-A's diamond program.
Since about 90% of jewelry insurance appraisals are for diamond jewelry, it's important to insurers that appraisers have in-depth training with diamond, as well as with colored stones. The credentials GG and FGA+ signify such training.
CIA stands for Certified Insurance Appraiser™. It signifies that an appraiser, who is already a GG or FGA, has also successfully completed a course offered by the Jewelry Insurance Appraisal Institute.
The CIA course covers how jewelry appraisals are used by insurers and what details are needed to properly insure jewelry. These appraisers are trained to use the insurance industry's standard ACORD/JISO 78/79 appraisal forms.
Why the credentials are important
A few decades ago appraisers needed to know, for example, the difference between diamond and CZ (cubic zirconia), or how to distinguish ruby from red beryl. Today, with the explosion of gem technology, the field is much more demanding.
Besides using recognized descriptive terms and grading scales, appraisers must be up to date on the many things that affect valuation, such as color and clarity enhancements, mining practices, lab-grown gems, gemstone branding, fashion, etc.
Although many of these issues affect colored stones, the appraiser's diamond knowledge is especially important. Because diamond's value is much higher, any errors in identifying or valuing diamond have much greater financial consequences.
To protect their clients (and the clients' insurer!), appraisers must be familiar with developments in the following areas:
Color enhancements (must be disclosed)

HPHT (high pressure, high temperature) treatments can improve a gem's color grade by lightening it, or it can deepen color so the diamond looks like an intensely colored fancy.
An inferior diamond can be coated with color, or even have a coating just on the bottom of the stone, so the gem appears more deeply colored than it is.
Irradiation can improve the color of a diamond, but the treatment may not last.
Clarity treatments (must be disclosed)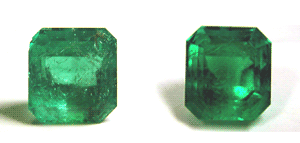 Emerald before & after fracture-filling treatment
Fracture-filling fills flaws in the stone with a non-gem material, making a poor stone appear to the unaided eye to be better and more valuable than it is.
Composite stones are pieces of gem material held together by a substance such as lead glass, reducing the "gem" to its original fragments.
Lab-grown stones (must be disclosed)
CVD and HPHT are two common methods used for both growing gems and adjusting their color.
New labs and new growing processes are continuously springing up.
Lab-grown stones are increasingly difficult to detect, and the expensive equipment required is beyond the reach of individual appraisers. An appraiser must be aware of his own limitation in this regard and be willing to recommend a lab like GIA to make the determination.
Gemstone masquerades

CZ is pretty obvious to a gemologist, but moissanite is a diamond look-alike that has fooled many a jeweler.
Colored gems are sometimes marketed and sold as their more famous colleagues, for example green beryl sold as emerald. Even if a retailer fudges on terminology, the appraiser should not.
Scams

New scams will always arise, and old ones will resurface.
Jewelry purchased online, from shopping channels, at tourist locations, or on cruises, often comes with a document — or maybe just a verbal assertion — that exaggerates the quality or value of the piece. It's the appraiser's responsibility to provide an accurate description and valuation.
Market values
Jewelry values are affected by a variety of situations, such as politics, weather, fashion, and provenance. Some circumstances change over time, and the appraiser's valuation must be accurate for the date of the appraisal.
Items outside one's expertise
Most appraisers deal primarily with diamond jewelry. If an appraiser is unfamiliar with the market for colored gems, or for high-value unusual gems, it would be better to recommend an appraiser in that specialty.
A large number of watches sold as brand-name timepieces are fakes. Manufacturers of luxury watches consider a watch that contains any non-brand parts to be "fake." Only an authorized dealer can confirm that all parts of the watch are authentic.

FOR AGENTS & UNDERWRITERS
Because insurance professionals are not gemologists, they must be able to trust that the appraisals they receive are accurate and detailed. That means they must be able to trust the appraiser's knowledge, training and ethics.
We suggest relying on appraisers who have one or more of these credentials next to their signature.
GG Graduate Gemologist of the Gemological Institute of America
FGA+ Fellow of Gem-A with Diamond diploma (be sure the "+" is there)
CIA Certified Insurance Appraiser in jewelry, appraiser is also a GG or FGA

Here again, look closely. Because GG (Graduate Gemologist of the GIA) is such a respected credential, appraisers who've taken some classes from GIA may use similar designations. "GIA Certified Appraiser," for example, is not a credential, as the GIA offers neither classes nor certification in appraising. "GIA Diamond Graduate" and other similar designation are not the same as GG. If the appraiser is a Graduate Gemologist, he or she will say so.
A CIA is a GG or FGA+ who has additional training in writing jewelry appraisals for insurance and is a graduate of the Certified Insurance Appraiser course offered by the Jewelry Insurance Appraisal Institute. A CIA-compliant appraiser can be trusted to write the detailed appraisals that insurers need to properly insure jewelry.
The best appraisal includes the JISO 78/79 appraisal form, and is written by a qualified gemologist (GG, FGA+, or equivalent) who has additional insurance appraisal training. One course offering such additional training is the Certified Insurance Appraiser™ (CIA) course of the Jewelry Insurance Appraisal Institute.
As a service to your clients, it is worthwhile to establish a mutually beneficial relationship with an appraiser in your locale who has the appropriate gemological training and writes good appraisals. You'll have someone to recommend who is reliable and fairly priced, saving clients the inconvenience of doing the research themselves. Clients will appreciate your extra work on their behalf. In addition, your business will increase because the appraiser in turn recommends you for jewelry (and other) insurance.
Follow this link to locate a Certified Insurance Appraiser in your area.
FOR ADJUSTERS
Your job always is easier if you are dealing with an ACORD/JISO appraisal: JISO 78/79 Jewelry Appraisal, or JISO 806 Jewelry Document for Insurance Purposes, or JISO 805 Sales Receipt. All of these will give complete information in a standardized format. This information will be sufficient for you to have a qualified jeweler accurately price a replacement.
If one of the above is not available, use JISO 18 Jewelry Appraisal & Claim Evaluation form to analyze data from the documents you have. This is especially helpful if you're faced with a "narrative" appraisal. JISO 18 allows you to order the information from other documents in a useful way and see what details may be missing. JISO 18 follows the same basic format as the JISO appraisal forms.
Use the appraisal's descriptive data, rather than its valuation, to price a replacement.
If a claim is made for damage, always have the damaged jewelry examined in a gem lab by a trained gemologist (GG, FGA+, or equivalent), preferably one who has additional insurance appraisal training. One course offering such additional training is the Certified Insurance Appraiser™ (CIA) course of the Jewelry Insurance Appraisal Institute, Oakland, CA.
©2000-2018, JCRS Inland Marine Solutions, Inc. All Rights Reserved. www.jcrs.com
Subscribe to Jewelry Insurance Issues