Appraisal Puff-Up vs. a Useful Appraisal
A good, hefty appraisal is what you need! The more information, the better! It shows the appraiser has really done his job!
— Don't be fooled. A fat document could be just another case of Appraisal Puff-Up.
Some appraisals don't just describe the jewelry, they help sell it. Or they help the buyer feel good for having bought it. Or they make a good impression while holding back important information.
There are many ways to create an impressive-looking appraisal.
1. The Framable Appraisal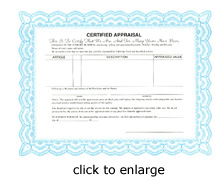 Easiest is to put a border on the page. This makes the document look official and important. Some are quite fancy and even seem suitable for framing, but that doesn't mean they're reliable. This appraisal form, for example, calls the appraisal "certified," though there is no such thing. The value of the appraisal depends on completeness and accuracy of content. For insurance purposes, an impressive look is irrelevant.
2. The Tightly-Packed Narrative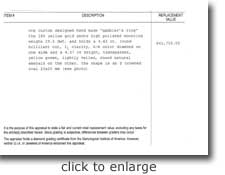 Another common practice is the "narrative" description. The customer can read the sentences, though not necessarily understand the content. The paragraph is densely packed with data and abbreviations, giving the impression that all important details are there.
Usually, they're not. This appraisal, for example, gives the emerald's hue, but omits any mention of tone and saturation. Since the major determinant of an emerald's value is its color, the three components of color — hue, tone and saturation — should be given in precise gemological language.
The narrative style may camouflage the fact that information is omitted. It also makes the adjuster's job all the more difficult, because he has to "unpack" the jewelry's description in order to price a replacement.
3. More Than You Need to Know
A third puff-up is to include a lot of irrelevant information. Sometimes many pages of irrelevant information. We recently encountered an appraisal that was seven pages long — for a single ring!
That appraisal used a whole separate cover page to state that this was an insurance replacement cost document. One page of the bundle gave the ring's description and valuation (this actually constitutes the appraisal). Another page repeated some of the description in another format and reproduced the GIA (Gemological Institute of America) clarity and color grading scales. One page was devoted to proportion information related to round brilliant diamonds — though the diamond being appraised was not round brilliant. Another page compared the GIA and AGS (American Gemological society) systems for grading cut; again, these grading systems are for round brilliants and therefore were irrelevant to this appraisal. Finally there was a full page on the appraiser's background, down to the college undergraduate degree.
This is much more than we need. Most pages of this appraisal were just boiler-plate padding, irrelevant to the jewelry being appraised. They were empty bulk.
4. The Look of a Lab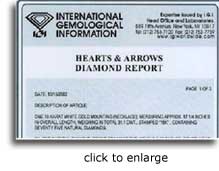 Appraisal-looking documents (whether or not they're actually called appraisals) can appear impressive when issued by gemological labs. However, not all labs are reliable, and some are notorious for inflating valuations.
Check appraisal documents for lines like "these values are not for investment purposes, nor are they an endorsement of the price you should pay." Such statements may mean that the valuations have no real-world basis.
In general, be wary of something called a "certificate" or "report" that carries a valuation, for the valuation is likely to be inflated. Reliable labs, such as GIA and AGS, issue diamond reports that authoritatively describe (or grade) the gem but do not carry valuations.

See Inflated Valuations & Questionable Certificates for a detailed discussion of the pitfalls of diamond certificates from unreliable labs.
The USEFUL Appraisal: JISO 78/79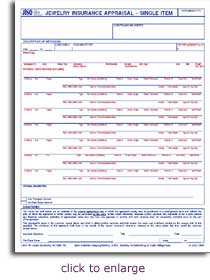 A good appraisal for insurance may not be fancy, verbose or visually impressive, but it makes the insurer's job easier. It serves the task at hand, without useless and misleading frills.
The JISO 78/79 appraisal was designed specifically for insurance purposes. It
describes (grades) the gem and setting (metal type, mounting, etc.) in detail, prompting the appraiser for complete information;
presents information in a standardized format that is easy for the insurer to read and understand;
gives a valuation based on current replacement cost at the appraiser's jewelry store;
has provisions and warrantees that apply to the insurer just as to the customer;
If there is no CIA in your area, an alternative is to recommend JISO 806, Jewelry Document for Insurance Purposes. This can be completed by any jeweler, preferably by a Graduate Gemologist. Follow this link to Locate Graduate Gemologists in your area.
FOR AGENTS AND UNDERWRITERS
A JCRS survey revealed that 78% of jewelry appraisals submitted to insurers are written by jewelers with NO gemological training. Don't be misled by the appraisal's appearance. For high-priced jewelry, be sure you have an appraisal from a Graduate Gemologist, preferably a CIA™.
Be especially wary of diamond "certificates" or "reports" from labs other than the respected GIA and AGS. They are often supplied by the seller and carry inflated valuations to make the customer feel good.
Although GIA and AGS diamond reports, or certificates, are useful documents, they are not substitutes for an appraisal. (Diamond reports describe only the gem, not the jewelry as a whole, and they do not give valuation.)
If you suspect an inflated valuation, recommend getting an additional appraisal prepared by a Graduate Gemologist, preferably a CIA™. Remind clients that an inflated valuation does not change the actual value of the jewelry.
FOR ADJUSTERS
Your job is easier if you are dealing with a JISO 78/79 Jewelry Appraisal or JISO 806 Jewelry Document for Insurance Purposes or JISO 805 Sales Receipt, since they will give complete information in a standardized format.
If one of the above is not available, use JISO 18 to analyze data from the documents you have. This is especially helpful if you're faced with a "narrative" appraisal. JISO 18 allows you to order the information from other documents in a useful way and see what details may be missing.
Use the appraisal's descriptive data, rather than its valuation, to price a replacement.
©2000-2018, JCRS Inland Marine Solutions, Inc. All Rights Reserved. www.jcrs.com
Subscribe to Jewelry Insurance Issues