DANGER! eBay Jewelry "Bargains"
Everyone shops on eBay these days because you can get such bargains. But when it comes to jewelry, Buyer Beware, and also Insurer Beware!
Let's jump right in. Here's a ring valued at $14,833 that sold on eBay for $400! There's a lab report to support the jewelry's value and a happy customer at the end of the sale.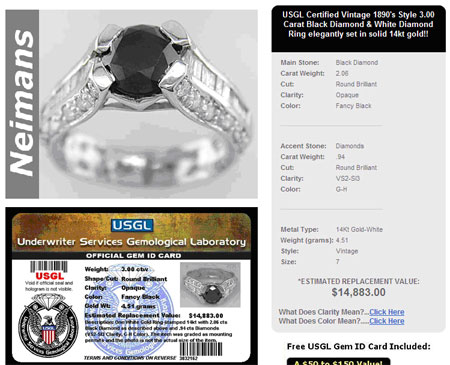 Neimans advises customers to "have realistic expectations." About its lab report, the seller says, "The Estimated Replacement Value is for insurance purposes only to obtain insurance coverage. . . . Please do not confuse Replacement Value with Appraised or Market Value, as they are not the same."
No kidding! Who made up that estimated value? Is it realistic to expect that a purchase from a jewelry retailer is worth 37 times the sale price? While we're at it, the USGL "Official Gem ID Card" attesting to the ring's value is said (in the lower right corner) to be a "$50 to $150 Value!"
The high valuation seems designed as a perk for the buyer (at the expense of the insurer). Actually, both buyer and insurer lose.
Suppose an insurer accepted this USGL valuation of $14,833. The buyer would then be paying $200-$300 in annual premiums. Would anyone insure a $400 purchase at this cost — unless they saw an opportunity? It's what we insurers call moral hazard.
Close examination of the lab's ID card shows that some crucial information is missing, such as cut dimensions. Also, the clarity of the main diamond is given as "opaque", though diamonds should be "transparent" — even black ones. These red flags are enough to make a trained gemologist suspicious of this valuation, even without seeing the jewelry itself.
A jewelry insurance expert would also know that reports from reliable labs, such as GIA (Gemological Institute of America) or AGS (American Gem Society), do not include valuations. Their job is to describe the gems accurately and completely, not to function as a sales tool. Any lab report (certificate, ID card, etc.) that includes valuation is suspicious. In this case, the huge difference between "estimated replacement value" and sale price suggests a grossly inflated valuation.
Suppose the policyholder insured the ring based on its $14,833 valuation and paid the high premiums. If she subsequently took the ring to an independent gemologist/appraiser and learned it was worth far less, she might have a "convenient loss" — in effect, sell the ring to the insurer for a profit.
eBay buyers are encouraged to give feedback about the seller, a practice intended to keep sellers honest. For most big jewelry auction sites, the feedback is 97-99% positive. This sounds good. But a close reading shows that an extraordinary number of the positive comments are a version of "order arrived on time, jewelry was nicely packaged." Most likely the buyers never have the jewelry independently appraised, to see whether it is as advertised.
The Brandishing of Brand
Buyers regularly look to eBay for brand-name merchandise at rock-bottom prices. Here's a statistic to conjure with: estimates are that 50% to 90% of the famous name products advertised on eBay are counterfeit. That includes artworks, designer clothes, makeup, software, collectable coins, electronics, DVDs, golf clubs...and, of course, jewelry.
A seller of knockoffs may copy sales receipts of the genuine article to prove authenticity or sell a used item as new. Some jewelry sites sell "Tiffany-inspired" jewelry. Others blatantly advertise and sell replicas of name brands.

eBay will remove any auction site that violates trademark laws — if the offender is brought to their attention. Monitoring the auction sites for counterfeits is expensive and time-consuming, so manufacturers tend to object only when customers complain to them about products bought on eBay.
Trademark holders feel it's eBay's responsibility to prevent the sale of misrepresented products. EBay claims it is only a marketplace, like a flea market. With 60 million items being sold at any given time, and 3.5 million new auctions every day, it cannot police everything.
Things may be coming to a head. Tiffany has filed suit against eBay for trademark abuse, claiming eBay is directly and indirectly assisting counterfeiters. This is after Tiffany had forced eBay to shut down 19,000 auction sites. It had randomly purchased "Tiffany" jewelry and found only 5% of it was genuine.
Tiffany recently won a suit against Starglam Inc., a major seller of fake Tiffany wares on eBay. If the Tiffany suit against eBay itself is successful, legal actions by other manufacturers are likely to follow.
Who Sells on eBay?
Although a good buy is possible from an individual, sellers may not even know what they're selling. Misrepresentation of jewelry quality, or even kind, is rampant. Sellers loosely throw in terms like vintage, genuine, excellent, synthetic, simulant, semi-precious. One gemologist interviewed in a "20/20" investigation described the poor-quality jewelry from eBay as what "we [gemologists] sometimes in slang refer to as frozen spit." Another expert said the clarity of the gems was so low "they should have been ground up for sandpaper."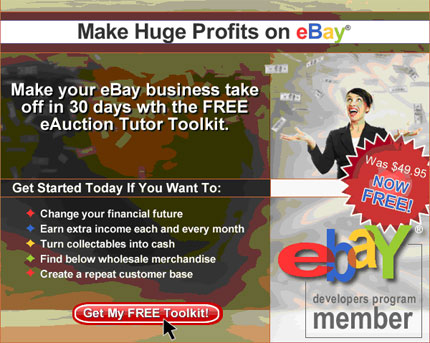 Not only can anyone sell on eBay, anyone can set up an official-looking jewelry site. eBay spam promises to make you a millionaire. There are "toolkits" for sale and for free to help you start an eBay business. Jewelry suppliers will let you select items from their site (at "below wholesale" prices) to show on your own web site and price however you want. You don't have to buy anything until you make the sale, then they ship to you and you ship to your customer. You set your profit margin, refund policies, type of payments you accept.
No knowledge of jewelry necessary, no investment in inventory, no reputation for honesty or expertise. Just set up a Web site and they will come.
FOR AGENTS & UNDERWRITERS
Red flags:
Was the jewelry bought on eBay or anywhere online?
Is the valuation far higher than the sale price?
Is the valuation on a printed certificate supplied by the seller?
If the answer to any of these questions is Yes, and the jewelry is high-priced, insist on an appraisal from an independent appraiser who is a Graduate Gemologist (GG) and, preferably, also a Certified Insurance Appraiser™(CIA).
Always ask for the sales receipt. A huge discrepancy between selling price and valuation is a strong indication of inflated valuation.
Lab reports, official-looking Certificates, Gem Identification Cards, or any other such paperwork supplied by the seller (from eBay or otherwise) are usually just sales tools, with exaggerated qualities and inflated valuations. Do not trust them.
As you go through renewals, keep an eye out for policies based on USGL valuations. Since these valuations are likely to be wildly inflated, consider having the policyholder provide an appraisal from a reliable independent appraiser.
Trust only certificates from reputable labs, such as GIA and AGS.
Scheduled jewelry should have an appraisal from a GG, preferably a CIA™.

Don't take brand names at face value. These days, everything can be counterfeited. Many trademark brands, such as Tiffany and Rolex, sell only through authorized dealers, never online. If a high-price item is bought online, or if you suspect it may not be genuine, insist that it be authenticated by an authorized dealer in that merchandise. You don't want to have to replace a cheap knockoff with a genuine item down the line.
Encourage clients to get an independent appraisal from a qualified gemologist as soon as possible after an online purchase. Point out how an appraisal's accurate description and valuation benefit them:
An inflated valuation means they pay higher premiums than necessary.
A settlement is based on the real value of the item, not an inflated value.
If an independent appraisal shows that the jewelry they bought is not of the quality advertised, they may want to return it for a refund.
FOR ADJUSTERS
Was the jewelry purchased on eBay (or anywhere on the internet)?
If so, be very suspicious of the stated quality and valuation.

Is the valuation far higher than the sale price?
Most likely the true value is closer to the sale price than to the stated valuation.
Is the valuation on a printed certificate/report/ID card supplied by the seller?
Disregard this valuation. Try to determine value based on descriptive information and sale price.
If necessary, consult a jewelry insurance expert to help determine value. Valuations from eBay jewelry auctions are often grossly inflated.
Is it a brand name?
Look for evidence of authenticity. Some manufacturers sell only through authorized dealers. Merchandise bought online (or from other unauthorized sources) may be used, or may be altered with cheaper parts, or may be a complete knockoff wearing an important logo.
Have all damaged jewelry examined in a gem lab to be sure the quality is as stated. For brand-name jewelry, have the piece examined by an authorized dealer to ensure all parts are authentic.
©2000-2018, JCRS Inland Marine Solutions, Inc. All Rights Reserved. www.jcrs.com
Subscribe to Jewelry Insurance Issues