Online Jewelry—
Buying It and Insuring It
The Internet is full of apparent bargains. But does an online buyer get enough information to make an informed purchase decision? And how does this affect the insurer?
The approach of this issue is a bit different. Although we're talking about "consumers" buying jewelry, insurers are consumers after the fact. Insurers deal with the purchases, so they need to know the pitfalls and scams associated with buying online. Insurers might also wonder whether the Net is a reliable replacement source for adjusters.
A jewelry site can easily sell items for less than the corner jeweler. It doesn't have to support a luxurious showroom and may not even warehouse any product. A piece of jewelry might be ordered online, then made, then shipped to the customer directly from the manufacturer.
Though a brick-and-mortar store may occasionally special order high-priced items for customers, a Web site can special order each thing when it is purchased. If some of the pictured items never sell, there's no loss to the "e-tailer," no excess stock taking up space.
A customer who knows what he wants can go to various sites and compare quality and prices. Bargains are indeed possible. But can jewelry buyers assess exactly what they're getting through a Web site?
Take, for example, this piece offered recently on Costco's site. This is a one-of-a-kind platinum ring set with an 11.37 carat center diamond and two small heart-shaped diamonds. The price is $500,000 — half a million dollars! But whether a purchase is $5,000 or $500,000, the perils are the same.

Is this a good buy?
The potential buyer for this piece isn't the average Costco shopper with grocery cart. Shopping for any gem requires knowledge and expertise. For jewelry in this price range (or any gemstone purchase, for that matter), a buyer could certainly benefit from the advice of a trusted jewelry expert.
Even from the written description and picture on the site, a trained jeweler/gemologist would be able to point out some issues.
The principal stone is an oval, rather than one of the more popular shapes (round brilliant, emerald, or princess). A less popular shape has lower market value. (A round brilliant diamond of similar size and quality, for example, would be worth substantially more.)
A check of the GIA diamond report number shows that the main diamond received its certificate 14 months earlier. One might ask why the diamond hadn't sold in over a year.
The setting doesn't seem to be appropriate for the large center diamond. A good 4-prong setting would include a ring of platinum around the stone below the girdle, for the stone to sit on. That ring would protrude slightly beyond the

girdle

of the diamond, so if the ring happened to be knocked, the girdle of the stone wouldn't get chipped.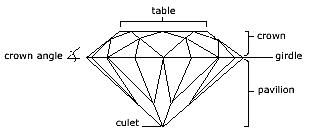 The two side stones don't match each other in dimensions or in appearance. The overall depth of one is very shallow, which would make the center of the stone appear dark, resembling a fish's eye.
The setting of the side stones is also inappropriate. The shallow stone has a very thin, highly damageable, girdle and the setting offers it no protection.
The critical cut proportions, or geometry, of the diamond are not disclosed. Because cut can account for as much as 50 percent of a diamond's value, it is necessary to have the exact proportions and critical angles of the gem to arrive at a valuation. "Good" or "excellent" are not meaningful gemological terms for describing a gem's cut.
The criteria for what constitutes a well-cut oval diamond are less standardized than for the more popular shapes. Even with the jewelry in hand, or with the diamond's precise proportions given, a careful buyer would seek the opinion of a trained and trusted expert to determine whether the diamond is well cut compared with similar stones in today's market.
Is this a good price?
We took this question to two jeweler gemologists who regularly deal in high-end jewelry. One calculated Costco's cost at $408,000, saying that a 10-15% markup is reasonable. He would price the ring in his brick-and-mortar store at $450,000. The second jeweler would offer it for between $450,000 and $480,000. Conclusion: Costco's price of $500,000 is no bargain — though the IGI valuation gives the illusion of a bargain.
In general, we recommend comparison shopping to get the best quality for the best price. However, a unique piece like this would be difficult to comparison shop. You most likely would not be able to find one like it on another site or in a store. But large diamonds are often sold at auction. Consumers and insurers have access to information on sales at Christie's, Southeby's, etc.
What about this "Summation of Appraisal"?
Buyer—and insurer!—must be wary of self-serving appraisals or other documents supplied by the seller.
This ring comes with a "Summation of Appraisal" from International Gemological Institutes, Inc. (IGI). The document describes the jewelry in some detail but gives only limited cut information. This is not surprising, since cut information is rarely reported to customers. Most jewelers, and even diamond certificates, do not disclose key cut proportions. Yet, as noted above, detailed cut geometry is critical for determining the quality, and hence the value, of a diamond.
For this information, it is necessary to have an appraisal from a trained jeweler who is dedicated to the principle of full disclosure, such as a Certified Insurance Appraiser™. The appraiser must also be someone who regularly handles this quality of jewelry.
The "Summation of Appraisal" gives an estimated replacement value of $677,695. That's more than a third over the asking price. Such a bargain is not likely. Even Big Box sellers that may call themselves wholesale clubs are still retailers, looking to make a profit.
(It's worth noting that the asking price is not necessarily the selling price. In 2005 Sam's Club, Wal-Mart's online store, advertised a necklace for $300,000, but eventually marked it down to $250,000. We can be sure they still made a profit. The IGI valuation on that item was $575,950.)
IGI is noted for its inflated valuations, as we've discussed before. Though buyers may feel they've come out way ahead, insurers should not use this document as a basis for underwriting or settlement.
We put "Summation of Appraisal" in quotes to remind you that this is IGI's phrase and should not be confused with a dependable appraisal and valuation. For insuring a piece like this one, a unique piece at this price, you should surely require an independent appraisal by a Graduate Gemologist who is also a CIA™, using standardized forms and procedures.
Protecting Yourself (Buyer & Insurer)
What a buyer misses by purchasing jewelry on the Web is the advice and expertise of a professional jeweler gemologist.
The next best thing is to get this advice immediately after the fact. Anyone who purchases jewelry sight unseen should have it appraised as soon as possible, by a reliable jeweler who is a Graduate Gemologist, to verify the jewelry's quality and value. Huge retailers like Costco allow a buyer to return merchandise that doesn't meet expectations. (An extra precaution is to pay for jewelry items only by credit card, so refunds will not be a problem.)
As in the brick-and-mortar world, on the Net there do exist honest retailers and good bargains. But don't take "bargains" at face value. Protect yourself and your clients by insisting that they get a detailed appraisal on JISO 78/79 by a Certified Insurance Appraiser™.
FOR AGENTS & UNDERWRITERS
Retain a copy of the sales receipt. This is more dependable evidence of retail value than a possibly inflated appraisal supplied by the seller.
A diamond jewelry purchase often comes with a "Diamond Certificate." Rely only on certificates from Gemological Institute of America (GIA) or American Gemological Society (AGS).
Do not rely on certificates that
carry a valuation
are supplied by the seller in order to make the price sound like a good deal.
For any jewelry purchase made online, insist on a JISO 78/79 appraisal by a Certified Insurance Appraiser™.
FOR ADJUSTERS
Diamond certificates from reliable labs, such as GIA and AGS, describe the gem but do not carry valuation. Valuations found on diamond certificates from other labs are likely to be inflated. Do not rely on them.
GIA Diamond Reports are so highly regarded that they are sometimes forged. You can quickly check a report's authenticity either online or by phone (760-603-4500 ext.7590).
A valuation that is well above the selling price is probably inflated. Base the settlement on the description of the jewelry, not its valuation.
When adjusting large-item losses, look out for your own interests. You may need the counsel of a jewelry insurance expert, just as a consumer needs advice when making a purchase.
The girdle is where the setting holds the stone. If the girdle is too thin, the diamond will chip there. If the girdle is unevenly cut, the stone will be problematic to set.
©2000-2018, JCRS Inland Marine Solutions, Inc. All Rights Reserved. www.jcrs.com
Subscribe to Jewelry Insurance Issues